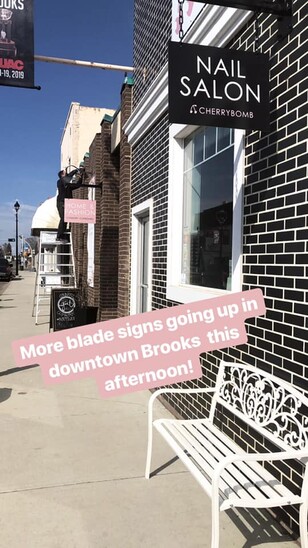 Business Opportunity
Brooks Region Blade Signs
Offering businesses an opportunity to add an attractive feature to storefronts.
Blade signage is primarily pedestrian-oriented. The size, lettering and placement of signs are, for the most part, designed to attract the attention of foot traffic. Signs are placed perpendicular on buildings or under canopies to alert pedestrians to the type of merchandise or service that the business provides. Ideally a blade sign will say Café or Ladies Boutique instead of a proprietorial name that does not convey what the business is about. For example: Instead of reading The Clothes Line, a blade sign would read Men's Wear, Men's Boutique or The Clothes Line - Men's Wear/Boutique.
About the Program
The Brooks Region economic development team started the Blade Sign Program in 2019 prior to hosting Hockey Canada's National Junior A Championships. Business applied for the program and signs were placed in high traffic areas to make storefronts more attractive and help pedestrians find stores easier.
Check out the 2019 Blade Sign Program brochure
The program was so successful that not all businesses received signs. Due to demand, the program has been included in the 2020 economic development budget. Information will be available once the 2020 program is ready to roll-out.
For more information, contact Nova at nsekhon@brooks.ca or by calling 403-362-3333.