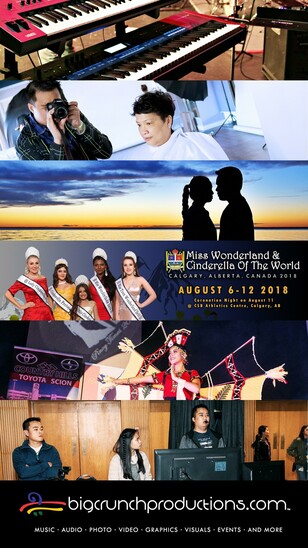 Business Description: ​Big Crunch Productions™ (BCP™) is a passion project turning into a new local business who provide creative solutions, designed products and artistic services.

We are focused on catering the creative needs of the masses in extraordinary ways from simple logos to extravagant events in all kinds and budgets. We offer lots of creative ideas, plans and solutions to assist you in any of your projects.

Proudly headquartered inside the Brooks Region, serving the Southern Alberta area and beyond. We are composed of local creative artists and designers who wanted to create, learn, practice, experience, discover, volunteer and/or work on their craft.

To know more about us and what products and services we offer, visit our website at www.bigcrunchproductions.com.
Available for: open-with-restrictions
COVID-19 Policies: Contact via email: sales@bigcrunchproductions.com, via phone: +1 (587) 600 5031, and via Facebook Messenger: facebook.com/bigcrunchproductions are preferred. In-person services in the studio such as appointments, meetings, lessons, tutorials etc. are available as of June 15th 2020. (We will contact everyone if any changes occur.) Handwashing and wearing a face mask are a must before entering the studio. A handwashing station is setup for client use and a face mask will be provided if needed.
Email: sales@bigcrunchproductions.com
Phone Number: 587-600-5031
Address: 68 Upland Place, Brooks
Postal Code: T1R 1M8
Website/Facebook/Instagram URL: www.bigcrunchproductions.com www.facebook.com/bigcrunchproductions www.instagram.com/iadiaz18
Updated Business Hours: Mondays to Fridays 9:00am - 6:00pm, Saturdays 10:00am - 6:00pm,
Sundays Closed