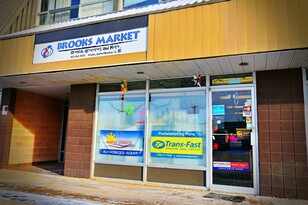 Business Description: We are an Asian grocery store filled with fresh fruits, vegetables, baked goods, chips, snacks, frozen goods, meats, seafood, household and beauty products. We offer wholesale/retail groceries, frozen foods, dry goods, home/personal/household goods, beverages and more! We also have money remittance services to anywhere in the globe and international cargo (door-to-door box) services to the Philippines.
Available for: open-with-restrictions
COVID-19 Policies: - No public access inside the store. A designated transaction zone is built outside the store. Any customer that needs to buy something can list what they need on a piece of paper (a grocery list folder is in the table) and the staff will prepare it for them. - Cash is still accepted, however debit/credit tap and/or Interac e-transfer transactions are highly recommended. - Home delivery is available to those who are in isolation and/or quarantine. No cash and/or card payments. Interac e-transfer only.
Updated Business Hours: Monday to Thursday 11:00am - 6:00pm Friday to Sunday 11:00am - 7:00pm
Phone Number: 403-362-4332
Address: Unit 100, 328 7 St E., Brooks
Google Maps URL: https://g.page/brooksmarketca?share
Website/Facebook/Instagram URL: https://www.facebook.com/brooksmarketca/