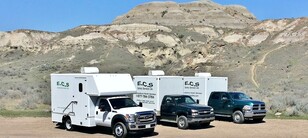 Business Description: ECS offers a wide range of Health Services including audiometric testing, pulmonary function testing, fitness to work medicals, respiratory fit testing along with drug and alcohol testing. ECS Safety Services also provides K9 narcotic detection, substance abuse policy development, drug awareness training, medical monitoring, on site mobile services and much more! We are committed to ensuring all your occupational health and substance abuse testing needs are completed to the highest standard.
Available for: open-with-restrictions
COVID-19 Policies: View communication online at: https://ecssafety.com/covid-19/
Updated Business Hours: Monday-Friday, 8am-5pm, closed during the noon hour. Staff are working staggered hours and remotely where possible.
Email: info@ecssafety.com
Phone Number: 403-362-5552
Address: 350 Aquaduct Drive (PO Box 2109), Brooks
Postal Code: T1R 1C8
Google Maps URL: https://goo.gl/maps/d9dy3kWxuXjTWKmU6
Website/Facebook/Instagram URL: https://ecssafety.com/