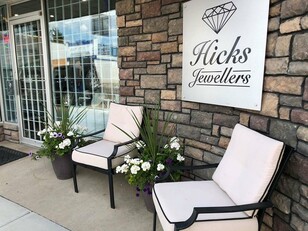 Business Description: We are a locally owned and operated family business that has made Brooks our home for over 40 years! We strive to provide a diverse collection of beautiful jewelry for every taste and style. We pride ourselves on our connections within the industry. We belong to the Canadian Jewellers Group which gives our business access to hundreds of reputable jewelry suppliers in Canada. We can create beautiful custom jewelry, restore cherished pieces and help our clients always leave with the perfect piece of jewelry for their loved ones. Our business model pillars around being authentic, honest and trustworthy. We know we have only succeeded due to the support of our community, that's why we work hard to always support community fundraisers, events and sport affiliations. We are continually grateful for our community and are thankful to be part of such an amazing community.
Available for: open-with-restrictions
COVID-19 Policies: We are open to the public regular hours. We have hand sanitizing stations when you first enter the store and encourage clients to read instructions on social distancing and precautionary measures to keep the community safe. We have arrows directing clients safely around the store and portable plastic guards placed between the sales associate and client. We sanitize all areas that have been touched after each customer and continue to clean and sanitize frequently throughout the store!
Updated Business Hours: Monday - Saturday: 10:00 - 5:00 PM
Email: rlhicks50@gmail.com
Phone Number: 403-362-3656
Address: 108 2nd Street W, Brooks
Postal Code: T1R 1C7
Website/Facebook/Instagram URL: www.hicksjewellers.com www.facebook/hicksjewellers.com Instagram:hicks.jewellers