« Back to News
New Adult-Living Residential Complex in Brooks Region
Posted on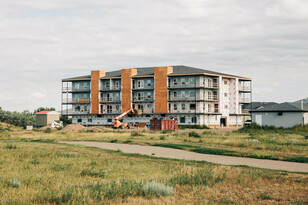 Largest Adult-Living Complex in Brooks Region
Saskatchewan-based company Span West is building the Brooks Region's largest adult-living residential complex. The four-storey Meadow Brook Estates is being built in two phases and the first structure, with an anticipated construction cost of $4.3 million, is well under way.
Features and Amenities
Phase 1 offers 22 spacious, air conditioned suites with high-end finishing's, nine-foot ceilings and a ground-level heated parkade. The one, two and three-bedroom suites offer a variety of layouts and every suite has a spacious balcony and storage unit (many come with two storage units). The corner units offer wrap-around balconies.
Location and Natural Area
The complex is located on the eastern edge of Meadow Lake and offers views of the lake, the surrounding recreation trails, groves of trees and prairie grasslands. An on-site community garden will as be created for homeowners to enjoy.
Timelines
Span West is hosting a Construction Open House on Saturday, June 16 from 12-3 p.m. for those interested in seeing the inner workings of the condo project. They expect to open Meadow Brook Estates in December 2019.
Benefit to Local Industries
Land development is essential for the Region's success as it generates more jobs, brings desired curb appeal, unites community members and maintains or increases home values. Whether residential or commercial, construction brings economic stability. Construction stimulates growth in retail, real estate, equipment, manufacturing, schools and tourism and has a trickle-down effect on other local industries.