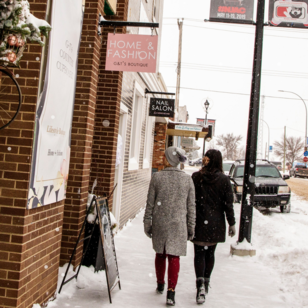 Brooks Region Blade Sign Program is Back - March 2021
The program was so successful that not all businesses received signs. Due to demand, the program is being offered again!
Brooks Region program that helped local businesses install a blade sign on their store front is back, as not all businesses that previously applied were able to get a sign.
A blade sign is a type of projecting sign mounted on a building facade or storefront which hangs perpendicular to the normal flow of traffic.
"They're one of the most effective ways to attract foot traffic into a business," says Angela De Blasio, Brooks Region Economic Development Officer. "The program was first offered in the spring of 2019, and was so popular that there wasn't enough funding for every business that applied."
To be eligible for the program, businesses must be in the Brooks Region – Bassano, Brooks, Duchess, Rosemary and County of Newell - and in high pedestrian traffic areas. It must be a ground floor business, able to place signs with a vertical distance of at least eight feet from the ground and they'll be given on a first come, first served basis.
There are limited funds for the program; therefore 15-20 applications are anticipated to be approved. All applicants are encouraged to speak with De Blasio prior to formally applying to discuss the eligibility criteria.
The program will cover 100 per cent of the cost of one blade sign with mounting hardware per business. The business will have full ownership of the sign, including hardware and installation costs will be the responsibility of the business. Additional signs can be purchased at the business's expense.
Interested businesses can find more information on BrooksRegion.ca or by contacting:
Angela De Blasio
Economic Development Officer
Brooks Region
ecdev@brooks.ca

-Offering businesses an opportunity to add an attractive feature to storefronts.
Check out the 2021 Blade Sign Program brochure
For more information, contact Angela at adeblasio@brooks.ca or by calling 403-362-3333.