« Back to News
Brooks Region offers Free ShopHERE powered by Google program to get local businesses online
Posted on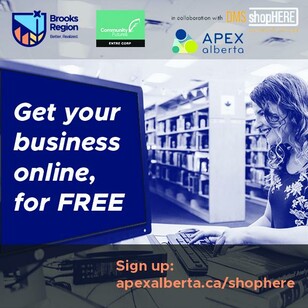 To help support our local small businesses, the Brooks Region has joined Community Futures Entre-Corp to offer the ShopHERE powered by Google program. This program, which started in the City of Toronto, helps independent businesses and artists build a digital presence and minimize the economic impact of COVID-19.
In May, Google announced a $1 million investment to enable Digital Main Street to expand the program to municipalities across the country, offering more businesses the opportunity to build their own online store.
"Our small businesses are getting hit the hardest as a result of the COVID-19 pandemic," says Jessica Surgenor, Economic Development Officer for the Brooks Region. "Our Economic Recovery Taskforce identified the need to help businesses get digitally ready and we're hopeful that this program will give our businesses the tools they need to sell online."
In Canada, small businesses employ 90 per cent of the private sector workforce, but since the pandemic hit, storefronts across the country have been forced to close their doors. According to the Organization for Economic Cooperation and Development (OECD), these closures are likely to hit small and medium-sized businesses hardest. A digital presence brings businesses enormous opportunities for growth, innovation and jobs. However, digital skills and tools can still seem out of reach to many.
Interested businesses can apply online at ApexAlberta.ca/shophere
For more information about the program please contact:
Sandra Milne, MBA                                            Jessica Surgenor
Regional Innovation Network Coordinator              Economic Development Officer    
Community Futures Entre-Corp                            Brooks Region
smilne@albertacf.com                                          ecdev@brooks.ca