« Back to News
Brooks Region Wins Two Awards for Economic Development Efforts
Posted on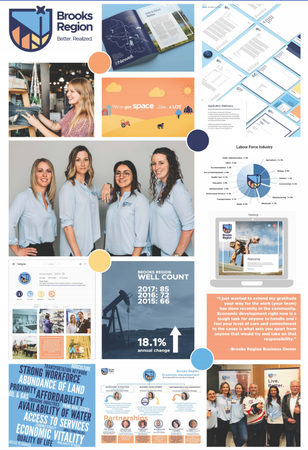 Awards for Business & Investment Attraction and Business Retention & Expansion
The Brooks Region economic development team is thrilled to be recognized at the 2020 Economic Developers of Alberta (EDA) Annual Awards of Excellence. The Brooks Region received the award for their Branding and Communications Strategy in the Businesses & Investment Attraction category and the award in the Business Retention and Expansion category for the NewGrow program.
"We couldn't be prouder to be honoured by Alberta's leading economic development organization," says Jessica Surgenor, Economic Development Officer for the Brooks Region. "We've been working tremendously hard in our investment attraction and business retention efforts and these awards let us know that some of the hard work is starting to pay off."
The goal of the Region's Branding and Communications Strategy was to build a distinct brand for a young, diverse and vibrant Region to promote economic development, improve recognition and build awareness, attract new investors and support local businesses. This project supports all marketing initiatives and efforts of the economic development team.
NewGrow is a public pitch competition aimed at supporting new and existing business in the Region. It provides entrepreneurs and innovators the opportunity to win an award package including up to $10,000 in funding and/or valuable business services, promotions and mentorship. The goal of the project was to develop a program that creates new jobs, stops leakages, helps remove business barriers and improve the overall health of businesses.
What is the EDA?
For almost 50 years, the EDA has been committed to advancing the economic development profession by providing resources, professional development and networking opportunities. As a non-profit organization, it is governed by a volunteer board of directors that represent the interests of its membership. Learn more about the EDA by visiting edaalberta.ca.
For more information, please contact:
Jessica Surgenor
Economic Development Officer
Brooks Region
403-362-3333
jsurgenor@brooks.ca