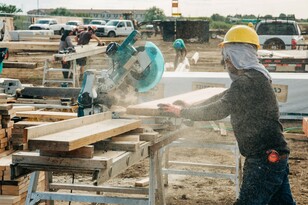 How is it that the Brooks Region is experiencing a building boom in the middle of an economic slump and pandemic? Building Permits, a leading economic indicator, are up across all sectors (residential, commercial, industrial and institutional) in the Brooks Region in 2020 and 2021 and this could mean big things for the Region.
If you've tried to enter a home building centre or buy building supplies in the past 18-months, you're well aware that something is up. And if you haven't had the pleasure of trying to buy plywood, I'll let you in on the secret… it's insane. The prices were sky high and the availability of even basic supplies was dismal. And everyone kept asking themselves, what is going on?! Blame it on COVID-19 and chalk it up to little quarantine home renos, right? It'll slow down. Except, in the Brooks Region, it hasn't. And these "little quarantine home renos" aren't so little, nor are they the only projects in the works.
Permit Surge During a Pandemic?
After hitting a 10-year low in 2020, Building Permits in Alberta started increasing in 2021 and for the January-August period, were up 34.4% compared to the same period in 2020. But in the Brooks Region, something else is happening. Rather than dropping in 2020, Building Permits skyrocketed and rose over 250% in the City of Brooks and 130% in the County of Newell. In 2021, they continued to rise even more and for the January-August period, values are up 163% in Brooks and 139% in Newell – that increase is on top of the booming numbers of 2020! We're seeing a two-year cumulative increase of 155% and the permits are still rolling in for 2021.
What it Means
Building permits, specifically the construction value of these permits, are used as an economic indicator to help gauge the performance of a local economy. For example, an increase in commercial and industrial building permits usually indicates expanding businesses and/or new businesses coming to town. New residential or institutional permits could mean populations are growing and infrastructure is growing to accommodate the population.
The bottom line is growth: when a community's economy is performing well, growth occurs. A strong economy full of expanding, competitive businesses sparks an increase in job opportunities which in turn attracts new residents. This can lead to the construction of new residences as well as offices and other infrastructure. If consumers and businesses have confidence in the future, they're more likely to invest in that community through development.
There are direct implications of all this development and growth as well. The $70 million worth of construction that took place in the Brooks Region over the past two years will have a direct impact on the local suppliers, trades and support industries. All good things.
Cause & Effect
In the past five years, both City and County Council have made commitments to making the Brooks Region more development friendly. They jointly-fund the regional Economic Development team, and have both Investment Attraction and Business Expansion as strategic focus areas. Over the years, they've offered incentive programs to businesses such as grants for new/expanding businesses, and interest-free beautification loans with a 20% grant. On the policy side, both municipal governments committed to cutting red tape and performed process reviews and customer satisfaction surveys for their respective Development and Building Permit processes. The result is a more streamlined, easy to understand and friendly process for developers.
It seems these efforts are having an impact; two new schools, renovated hospital, expanded seniors living facility, multiple renovated and expanded commercial businesses, plus residential renovations and new homes being built. With all the ups and downs we've seen in the past year, it seems that our skyline is one more thing changing during this pandemic.
Data Sources
Government of Alberta, Economic Dashboard Building Permits [website], https://economicdashboard.alberta.ca/BuildingPermits#alberta, (accessed 22 October, 2021).
City of Brooks, Building Permit Comparisons [website], https://www.brooks.ca/566/Building-Permit-Comparisons, (accessed 22 October, 2021).
County of Newell, Construction Permit Values 2018-2021