« Back to News
Creativity and Innovation in Emerging Industries in the Brooks Region
Posted on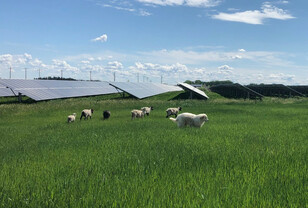 Innovation and creativity continue to thrive in emerging industries located in the Brooks Region. Home to Western Canada's first utility scale solar project, the Brooks Region is also the planned location for another 1,400 MW of solar generated energy, three cannabis cultivation and research facilities, plus some amazing new ideas in agriculture, including a shrimp farm.
Elemental Energy, who own and manage Brooks Solar, the 17 MW utility scale solar farm just north of the City of Brooks, have recently upped the creativity ante to solve a site management issue they were encountering. Their solution? A flock of sheep are officially employed to help with "vegetation management", aka, eating the grass. Conventional methods of maintaining the grass had been tried in the past but the layout and orientation of the panels made it quite difficult and time consuming. The herd, which includes ewes and lambs and could increase up to 100 sheep, can access grass under and around the 49,000 panels much more easily. That, plus it allows the land to still be productive and Elemental has reduced their environmental footprint even farther by not needing GHG-producing mower and trimmers. A local shepherd was hired to do regular checks and make sure the 60-acre parcel isn't overgrazed and there is even a sheep dog on site, helping to protect the herd.
Elemental Energy's innovation and development isn't stopping there – plans to expand the solar farm to include another 26.5 MW on 215 acres of land have been approved by the AUC and the County of Newell. The expansion project, slated for construction in 2020 and to be operational by summer 2021, will add another 81,000 panels. These panels, unlike the ones installed in 2017, will be mounted on a solar-tracking racking system, orienting the panels to the east and slowly rotating them on a single axis to track the sun's movement to the west. Utilizing this single axis tracker will increase the project cost but will also increase electrical productivity by 25 to 35 percent.
Meanwhile, indoors and underwater there are some other new ideas hatching – literally hatching. A new business, Chinook Shrimp, is in the planning and development phase to grow fresh, never frozen, Pacific White Shrimp by using a process called Recirculating Aquaculture. The water used in the facility is recycled and recirculated, only losing about 1% per day due to evaporation. Using good clean water and a regimented diet, the shrimp grow from the size of an eyelash to a full 20 grams in 120 days. The result is a totally unparalleled seafood product that is fresh, flavourful and sweet. The shrimp are harvested by dunking them in an ice water bath, preserving the freshness of the premium product. The plan is to pack them with ice and sell them at Farmer's Markets, through a store front, and as a wholesaler.
As innovation sparks in the Brooks Region, locals and elected officials couldn't be more "amped" to welcome new ideas. "We don't want to get left behind, and we know that listening to new ideas and trying new things is what is going to get us ahead," says Barry Morishita, Mayor of the City of Brooks. "So whether it's automation, waste incineration or shrimp farming on the Alberta prairies, we're open to looking new opportunities." For a region that has historically relied on oil and gas or agriculture as their main economic drivers, these emerging industries and creative approaches are helping to diversify and stabilize the local economy. And who would have thought that the path forward would include sunshine, sheep and shrimp?