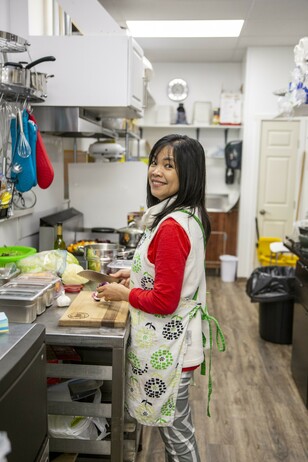 Taking a risk to open a new business amidst a pandemic and economic crisis is nothing new for this independent, immigrant and inspiring powerhouse of a woman.
You can't walk into Earthy Eats and Specialty Teas, located in Downtown Brooks, and not instantly feel the warmth and hospitality projected by the space and the owner/operator Madonna (Donna) Tanael. There are lush plants everywhere you turn, light and sound, a living wall (you heard that right!), fresh herbs and even a few pet fish. The café, specializing in healthy options, superfoods and teas, opened in July 2020 but has been in the works for several years, starting with a mourning, single mother in the Philippines.
Donna came to Canada as a Temporary Foreign Worker on December 24, 2013 and paid her own way after cashing in her accumulated pension. Her eldest son died by suicide just months earlier after a silent, hidden battle with depression, something Donna says at the time, she knew nothing about. "Mental health was just not something we talked about, or knew anything about," says Donna "There was a mental hospital in a nearby city, but no one really understood depression."
She couldn't bear the thought of celebrating Christmas without one of her children and needed to get away to heal. After landing in Canada, she eventually ended up in Brooks where she worked, volunteered and slowly built a network of friends and established a support system. Not willing to let any of the trials and tribulations of her past break her, she forged forward with tenacity, met a man who would later become her husband, filed for permanent residency, and was able to bring her other two children over from the Philippines.
Throughout her grieving process, Donna began asking "why" more often – why do people suffer from depression, why is it not talked about, why do things happen the way they do, why are some people more resilient than others? She began to seek answers and studied herbology, spirituality, the needs of a healthy mind, naturopathy, and she completed a Bachelor of Science Degree in Nutrition & Dietetics.
"Diet triggers mental health issues and I wanted to find a way to help people with this," she says. "I could help by giving them a space where they can relax and slow down, and fuel their body with proper foods. I want people to enjoy themselves and enjoy food." With that, her focus narrowed. Knowing her future lay in Canada, Donna made the risky decision to sell her home and property in the Philippines and use the proceeds to open her own business – the seed of Earthy Eats had been planted.
Fast forward two years and her dream of creating a peaceful, tranquil space has been realized. Earthy Eats and Specialty Teas offers daily lunch and dinner specials, daily tea specials, smoothies, juices and a wide variety of foods that are gluten free, lactose free, organic, no sugar added, non-GMO and locally sourced. International foods are also featured in the mix, with dishes from the Philippines, Vietnam, Japan, Korea, Latin American and the Mediterranean (having a cousin working as a chef in France helps with that one!). Donna's youngest child is attending school in the Brooks Region and her older son has completed college and is helping manage her business. Despite the risks of entrepreneurship, particularly during these wild times, Donna's tenacity has never wavered. Donna's perseverance was put to the test during her immigration experience, which had ups, downs and uncertainties along the way. That same perseverance is serving her well in business; it's clear that behind the warm smile and cup of tea, this is a woman determined to forge her own way.