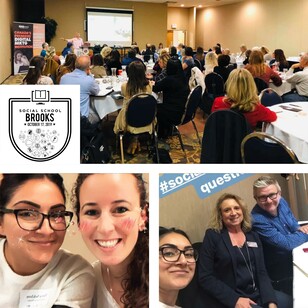 Social School Brooks
The Brooks Region recently partnered with local economic development organizations Community Futures and Business Link to host Social School Brooks. We had an amazing turnout (over 60 people) and were really encouraged by the levels of engagement we saw from the businesses that attended. A big shoutout to those businesses that sent someone and recognize the value of communications and marketing. And of course to our amazing partners who continue to offer first rate programming and services – you're awesome too! <3
Who is the Brooks Region and why do we host these events?
Let's back it up for a second and talk big picture – what's our role and why do we host events like this? Short answer: Because local businesses told us that they were struggling with social media during our Business Retention and Expansion Survey in 2018. Long answer: Because we want to be providing real services that translate into real results for local businesses, entrepreneurs and professionals. We aim to be a resource for businesses to seek ideas and support and we want to help bring people together to collaborate and form relationships.  What we don't want is to spend our entire budget, every year, commissioning studies that sit on shelves.  We want to provide targeted, useful programming and services that provide value.
Other programs the Brooks Region runs
Well that all sounds great, right? But are we actually doing it? Social School is one example, and our growing Business-2-Business Networking Breakfast are another example. Plus our NewGrow grant program, our Blade Sign program, the Newell Proud campaign, Marketing Makeovers, and a brand new Business Beautification program are all programs that deliver real, tangible assets into the hands of businesses. And lately, our clients have been pretty happy:
"I'm glad to see the more innovative approach you are taking to see that we keep the wheels turning. Brooks will be a stronger community due to the work you guys have done."

"The money could of possibly been used to pay for an economic study, but that would have not been necessarily put back in to our community. The NewGrow program used local people to find out where money would most benefit business growth and lower unemployment."
Talk to us!
We've been pretty happy too; seeing local success stories warms our hearts and makes us want to do more and more. Want to know more about the things we're working on? Send us a message or email our team at EcDev@brooks.ca, we'd love to chat.