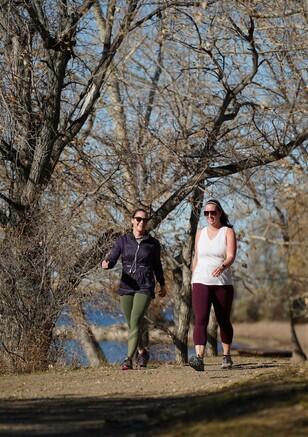 For many years, residents of Brooks and the County of Newell have desired a pathway that connects the City of Brooks with one of the Region's most treasured assets, Lake Newell.
The project was proposed again in 2020 and this time, regional partners were all on board and ready to make a commitment. In 2021, an endorsement from the Eastern Irrigation District, plus a large municipal funding pledge, provided the momentum needed to make this dream a reality. Community members and municipal partners are excited to see the pathway through to fruition and provide a legacy project for residents and tourists to enjoy for many years.
The Kinbrook Connection Pathway is a multi-functional, shared trail that will link to the existing pathway network in the City of Brooks. The pathway will stretch for a total of twelve kilometres exposing users to lake views, natural grasslands and prairies, shorebird habitat, and some amazing sunrises and sunsets.
Aside from an active transportation route bringing residents/tourists between Brooks and Kinbrook Island Provincial Park, the pathway could be used for recreational events and activities such as races or birdwatching. There is also potential for future expansion off the main pathway to other locations in the County of Newell.
Sponsorship and financial contributions are needed before construction can begin on the Kinbrook Connection Partnership Pathway. To make a donation and pledge your support today, you can fill out our donor pledge form, and send it to the email address below.
Sponsorship gives businesses and organizations an opportunity to connect with their target markets and show their support for what is sure to be a treasured community asset. There are a variety of sponsorship levels available for all sorts of budgets, so you can leave your mark and increase your organization's exposure.
To learn more about the Pathway project, download our Sponsorship Brochure or you can contact Brooks Region Economic Development at 403-362-3333 or e-mail us at ecdev@brooks.ca