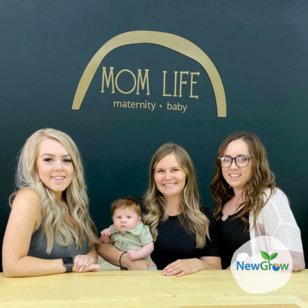 NewGrow has helped many businesses grow and expand in the Brooks Newell Region.
With applications closing on May 19th and the pitch night on May 26th, we'd love to shine the spotlight on Mom Life Maternity. They offer high-quality and consignment maternity and baby clothing, gear, décor, developmental toys, books, and pregnancy and postpartum essentials.
After receiving the NewGrow funding in 2021, Mom Life Maternity launched its e-commerce website, allowing them to reach a broader audience and provide convenient shopping options for busy parents. They also updated the POS system to ensure seamless in-store and online transactions.
Mom Life Maternity took its commitment to the community to the next level by purchasing supplies to host events and workshops. With new TVs, webcams, and chairs, they can create engaging and informative programs that empower moms with valuable knowledge and connections.
Embrace the joys of motherhood with Mom Life Maternity! Follow @momlifematernity for updates and new arrivals, or visit their website at www.momlifematernity.com