« Back to News
Taskforce partners with BRZ, Farmers Market & Food Trucks
Posted on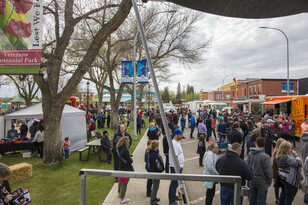 Partnership brings "Outdoor Market" to Downtown Brooks
On behalf of the Economic Recovery Taskforce (ERT), the Brooks Region economic development team presented City of Brooks Council with initiatives to make the downtown safer, more pedestrian friendly and to encourage downtown shopping and event hosting. The outcome resulted in closing down the 100 block of 1st Street West on Thursdays, starting July 30, to create an outdoor market which includes the Farmers Market, sidewalk sales and Food Truck Event.
This will accomplish a few important things: 1) Increased exposure to businesses along 1st Street West, 2) Increased opportunity for businesses along 1st Street to join in the festival feeling and offer sidewalk sales, patios, etc., and 3) Increased social distancing for the Brooks Farmer's Market and Food Trucks.
"The pandemic has really affected our small businesses and now is the time to think outside the box," says Sandy Melville-Haberman, a downtown business owner and President of the Brooks Revitalization Zone (BRZ). "We are trying to find ways to bring more people into the downtown and spur local spending while at the same time providing a safe environment in response to the pandemic."
Initially, the ERT presented Council with the idea of making 1st and 2nd Street West one-way streets, however, after consultation with local businesses and the public, it was decided this would not be a preferred option. The BRZ and Farmers Market agreed that shutting down the streets on a temporary basis to host an event would be a better option.
The ERT is made up of 10 members of the business community and local economic development stakeholders and they're looking at immediate, short-term and long-term economic stimulus projects and ideas. Some of the other projects include offering business beautification loans, creating off-highway vehicle usage, reducing red tape in development processes and making the bidding process for local business and contractors more advantageous. Some of the long-term projects include paving pathways to Lake Newell, making internet upgrades, economic gardening and diversifying our local economy.
"Many of the projects fit within the current Economic Development Strategic Plan," says Jessica Surgenor, Brooks Region Economic Development Officer. "We're excited to be working with our local businesses and industry to ensure we're developing initiatives and programs they'll be able to use."
For more information about the Economic Recovery Taskforce please contact:
Jessica Surgenor
Economic Development Officer                                              
Brooks Region                                                                             
ecdev@brooks.ca