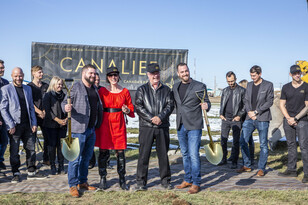 Cannabis Facility Breaks Ground in the Brooks Region
Calgary-based "craft" cannabis grower Canalief recently hosted a ground breaking ceremony for their 67,000 square-foot growing and production facility in the Town of Bassano.
Last October, Bassano Town Council approved a $150,000 land sale for 2.6 acre parcel to Canalief. The facility will be located behind New West Milling.
Canalief has obtained a development permit for the project and future production would be geared to the medicinal marketplace.
Construction is expected to create up to 40 temporary jobs, while a full-time operational workforce is expected to hit 25.