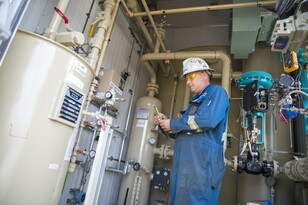 If the future lies in H2, how do we set ourselves up so we're sure to get a piece of that pie?
That's exactly what officials in the Brooks Region were thinking when discussions started around the potential for a hydrogen related project in partnership with other municipalities in Southeast Alberta.
In 2021, the Federal Government released the Hydrogen Strategy for Canada which is a strategic plan to help Canada meet our climate change goal of becoming net-zero by 2050. It would seem that hydrogen plays a big part of that; the strategy projects that by 2050, up to 30% of Canada's end-use energy could be hydrogen based. Beyond that, Canada could be positioned as a world-leading producer, user and exporter of clean hydrogen and associated technologies.
So where does Southeast Alberta fit in? Our Region has a unique opportunity to become a centre for the production of hydrogen, both "blue" (made from natural gas or other materials) and "green" (made from water). We have a ready supply of feedstock for production of blue and green hydrogen, plus access to labour with experience in infrastructure such as pipelines, transmission, and carbon capture storage.
First step, gather the partners and get organized.
In order to seize this opportunity, the Southeast Alberta Hydrogen Task Force (the "Task Force", for short) was formed in hopes of creating a Hydrogen Hub. The Task Force is composed of representatives from Prairies Economic Development Canada, the Brooks Region, the City of Medicine Hat, Palliser Economic Partnership, CF Industries, Methanex Corporation, APEX Regional Innovation Network, RockPoint Gas Storage, Campus Energy, Envoy Energy and The Transition Accelerator. The project is modelled after the Alberta's Industrial Heartland Task Force which has recently announced the launch of the Edmonton Region Hydrogen Hub. The Transition Accelerator is the partner organization currently undertaking a study to help create a framework that will allow our Region to develop a sustainable hydrogen economy.
Next, do your research.
The Task Force is currently working on a Foundation Report to be presented in early 2022 that will detail the opportunities and challenges that the area has in moving towards a viable hydrogen production industry in Southeast Alberta. There needs to be a balance between production and demand to make economic sense so the Task Force is currently measuring existing fuel uses in various industries to gauge which could potentially be switched to hydrogen.
Aaaaand, Action!
Once the data is collected and analyzed in the Foundation Report, the Task Force will need to get to work. A proper organizational structure will be created with identified responsibilities. The Foundation Report will help the partners set priorities, create an action plan, and start delegating tasks. Ideally, action will be taken by both government and industry so that the changes are impactful and relevant.
If you would like more information on the SE Alberta Hydrogen Hub please contact:
Mitchell Iwaasa
Economic Development Officer, Brooks Region
403-362-3333