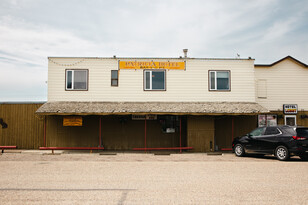 Snug in Southeast Alberta, a vintage hotel built in 1915 welcomes visitors from around the world to travel back in time and experience an authentic western atmosphere.
The Patricia Hotel and Water Hole Tavern is located in Patricia, Alberta, and invites families and friends to escape the modern times with their character hotel rooms, cozy coffee shop, and rustic eatery that features a steak pit — where visitors can order, season, and fry up a freshly-cut steak themselves.
"The ambience of the hotel is amazing. It's like stepping into the wild, wild west," says Jodi Stuart, co-owner of The Patricia Hotel. "It's really something you need to see for yourself to appreciate it all. When you walk through those swinging saloon doors, it feels like you've stepped back in time."
Stuart and her two business partners, Pamela Chewka and Anita Bennett, have welcomed visitors from as far as Japan, Germany, Europe, India, and Korea, and she says Canadians are sure to drive the roads to explore the town of Patricia and surrounding areas.
"We love meeting people from around the world and seeing them come in and have a good time, enjoying themselves and the food, and then leave with great memories," says Stuart.
The steak pit was a feature that was added in 1980 and is the only one in Southeast Alberta. The surrounding areas of Patricia offer beautiful views with the badlands, prairies, and man-made lakes. A handful of experiences come when visiting this landmark in the town of Patricia.
"Dinosaur Provincial Park is phenomenal. I've been down there thousands of times and never get tired of it. We have Lake Newell that's close to us, which is the biggest man-made lake in Alberta," says Stuart. "In Patricia, it's all irrigated farmland — everything is so green and lush, and if you drive out east, you see more of the dryland prairies."
The saloon bar is open to only adults six days a week, and on Sundays, the owners welcome families of all ages to experience the old country bar and saloon. Labour Day weekend also brings one of the second busiest weekends in the town.
"We have over 4,000 people come to Patricia and there's a good old-school rodeo. It's very family orientated," says Stuart.
Stuart's parents owned The Patricia Hotel for over 40 years, and in 2022, Stuart, Chewka, and Bennett took over to continue to offer the authentic Alberta, western experience.
"Patricia is a really close knit community where we watch out for one another. It's more intimate than living in a city. You know all  your neighbours and it's quiet," says Stuart. "You can just step back and relax here; we're a really good place for that."