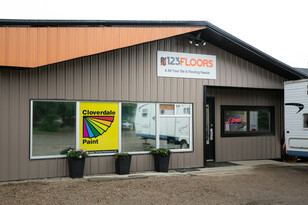 Chad Porfoun, the owner of 123 Floors, has called Brooks home for over 25 years. After having spent 16 years as a dedicated flooring installer, Chad decided to seize the opportunity to open his full-range flooring store. In January 2021, the team at 123 Floors rolled out their brand-new showroom that features a wide range of flooring options.  
From carpet to linoleum to hardwood, Chad and his crew have the products to meet almost everyone's requirements. They carry some of the top brands in the industry with a focus on quality and affordable choices for their customers. Whether it's traditional wall-to-wall carpeting or the latest in engineered hardwood, Chad and his team will help you determine the best options for you. 
If you have any questions about what type of flooring will work best, stop in and talk to someone on the team at 123 Floors. Once you've chosen the right product for your needs, rely on them to install your new flooring properly. Hiring a local contractor offers you the flexibility in scheduling your install,  availability to follow up, and the commitment to doing the job right. Their extensive knowledge and experience mean you will be sure to find the right solution to meet your needs and your budget! 
Oh yeah, they carry Cloverdale Paint too! So, if you are getting new floors, you might as well spruce up the walls while you're at it!
Chad along with his wife Joeleen and their twin daughters are part of a family business committed to providing the best customer service possible to the Brooks Region. They believe you are not only a customer but also their neighbour and look forward to serving you for years to come.
Make sure to visit their showroom or check out their website to see what they have to offer.