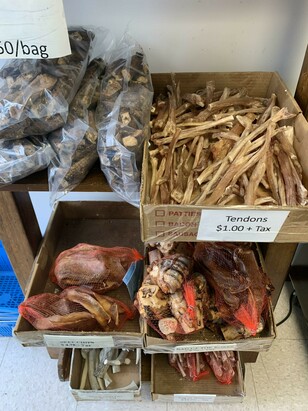 If you've been to Duchess in the Brooks Region, you've driven by
Alberta Prairie Meats
. They're not just a butcher shop. For nearly a century, there has been an exchange of names and owners in the old converted house on main street. They opened their doors to the public in the new 6,000 sq. ft. facility in November of 2000.
Jim Johnson is the proud owner and operator of
Alberta Prairie Meats
. The company has achieved a reputation for having quality products along with friendly and professional service. The man behind the knife is Steven Huard. He's a federal beef grader and every cut is inspected. They know their quality.
All beef is locally supplied…they process 60-70 head of cattle a week!
Here's a few things you may not know about
Alberta prairie meats
:
Betcha didn't know they also stock an abundant selection of dog treats and raw dog food!? It is all made in house and available in their onsite showroom! That's right, they have a website at www.albertaprairiemeats.ca
All their dog treats are officially tested and approved by Luna and Mia!
Something else that's incredibly interesting is that they've supplied a cow carcass to the movie set of Fargo to create a synthetic replica. How cool is that?
Be sure to stop in, say hello and check out all the great things about Alberta Prairie Meats! They have a great staff that's excited to work with you!