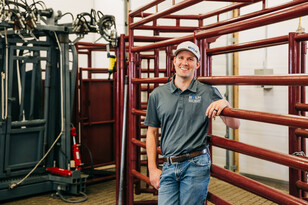 Bow Valley Veterinary Clinic (BVVC) & Bow Valley Livestock Health (BVLH) share a 10,000 sq foot building that offers specialized care for both small and large animals. With 8 vets between the two practices, they provide a comprehensive range of veterinary services.
Bow Valley Vet Clinic has been in operation for over 40 years and has been owned by vets Rob and Candy Stables since 2004. In 2007, they moved the practice to its current location just north of Brooks and in 2016, BVVC branched into a separate practice owned by Dr. Blake Balog, who specializes in bovine health.
Blake was raised on a cow-calk operation in Milk River before acquiring his Doctor of Veterinary Medicine from the Western School of Veterinary Medicine in Saskatoon. Candy also graduated from Saskatoon earlier in 1999 and has been working at Bow Valley for the 20 years since!
While both clinics are owned privately, they are part of a franchise called XL Vets Canada which allows them to provide clients with a competitive advantage. With over two dozen stellar reviews on TopVet and Google, it's safe to say that BVVC and BVLH are much loved by their customers!