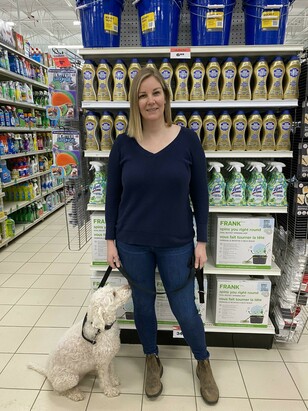 Lindsay Ullathorne of Brooks Canadian Tire.
Some may think that a big name like Canadian Tire is just another big box store, but did you know that Canadian Tire Stores are not like most big corporations? They are actually owned and operated by local people! Like Lindsay Ullathorne!
Lindsay has an abundance of experience when it comes to Canadian Tire.  Before purchasing the Brooks store on August 20, 2020 after long time residents Randy and Allison Patton retired, Lindsay worked in almost every department in Canadian Tire stores from Aylmer, Ontario to Victoria, British Columbia.
"I grew up inside a Canadian Tire store. My dad became a Dealer when I was only six years old, so I was lucky enough to experience life inside a store before I ever decided to make a career out of it. I spent Sunday's in my dad's first store. Back in those days the stores were closed on Sunday's—in a uniform and name tag, pretending to be a cashier. I always appreciated the business and understood how unique our life was. We lived all over the country, and the older I was, the more I understood the value that those experiences had brought to my life," says Lindsay.
"It wasn't until after I finished college that I really started to consider my future, and how the experiences I had gained could be leveraged to create a life for myself with my own unique, cross-Canada experiences."
Lindsay is new to the Brooks Region, but she is no stranger to supporting local organizations, teams and charities, and has already been a huge part of the Brooks Food Bank drive in December - donating over $18,000! Lindsay is also a proud advocate for female entrepreneurs and is always encouraging woman of any age to follow their dreams and go for what they want!
As a new member to the Brooks Region, Lindsay and Piper (the unofficial Spokes-Dog) of the Brooks Canadian Tire, look forward to getting to know and connect with the Brooks Region community!
Also, bring your pet for a visit the next time you stop in to shop, as Lindsay's store always welcomes four-legged companions!! So, stop in and say hello to Lindsay, the staff and of course Piper and show what it means to be "Newell Proud"!