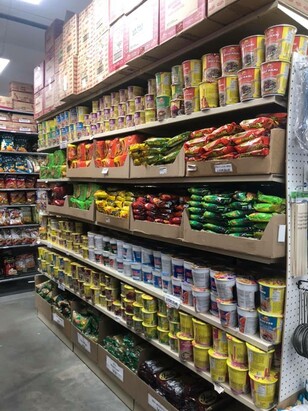 Brooks Grocery has everything from banana blossoms to bed sheets! After coming to Canada 12 years ago, Sheryl Yanos and Virgilio Gasasin, made Brooks their home in 2016 and opened Brooks Grocery. This couple has their hands full, but still manage to raise their young family while operating two additional adjacent stores, Paylow Smokes andCigars and the recently opened Brooks Discount Trading.
Their number one focus is their customers!
Upon entering their stores, you are sure to get a friendly welcome every time! Sheryl aims to
reach every customer's needs and encompasses many diverse cultures. Between Brooks Grocery
and Brooks Discount Trading, Sheryl has everything you're looking for! She carries a unique
selection of fresh produce, an array of ethnic foods, housewares and even handbags and cozy
bedding!
Just few steps away at Paylow Smokes and Cigars, this place is worth the browse. They have an
incredible selection of incense and scented candles, as well as personal Cannabis supplies.
Virgillio stands behind the name Paylow as he is no slouch when it comes to his business...competitive pricing is top priority!
This trio of shops gives you an enjoyable shopping experience! You'll most likely find what you're looking for, or even what you did not know you are looking for!

Brooks Grocery, Brooks Discount Trading and Paylow Smokes and Cigars are your one stop shop and
you can expect great service every time from this family unit. Be sure to check them out! They're
located on Second Street West in the newly constructed plaza!