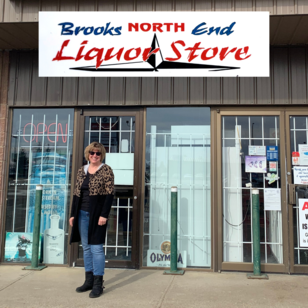 Business Spotlight
Getting your name out in nearby business circles can go a long way toward building rapport and opening up new opportunities!
Not only does Barb Medway, owner of Brooks North End Liquor Store know her product and what her customers want, she is a true advocate for supporting local business. Rolling into her 16th year at Brooks North End Liquor Store, Barb has a remarkable presence in the community. With her generous sponsorship of many teams and local organizations, businesses could take notes from Barb on all around community support! 
After working at "Nelson's Men's Wear" (another historical Downtown Brooks store) for 11 years, then 11 years for the school district, Barb along with her husband Bob, decided to take the entrepreneurial leap and go into the liquor store business. Both Barb and Bob grew up in the Brooks Region, were married following high school, raised three kids, Nicole, Brent and Shaun and then started this adventure in 2005. 
They purchased this thriving business from Tammy Cyr who's another long time Brooks resident and successful entrepreneur.
Barb Medway and her dedicated staff of 9 at the Brooks North End Liquor Store strive to exceed the gold standards of the industry. This crew is proud to of their commitment to the community and they look forward to serving the Brooks Region for many years to come!
"Cheers and Stay Safe" from the staff at Brooks North End Liquor Store!