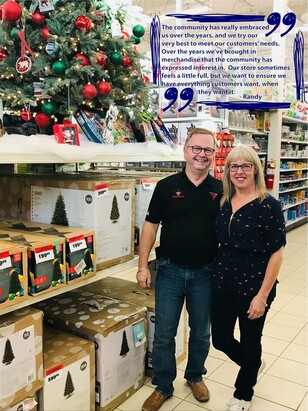 Did you know, Canadian Tire is locally owned and operated?

Randy and Alison Patton moved to Brooks from Ontario in 2005 to become owners of Canadian Tire (then located at 1027 2nd St W). In 2010 they finished building the new location and relocated the store to where it is now. They've lived in this community for 14 years and have raised their three kids here. 

They are also big supporters of organizations in our community such as the Brooks Bandits, Brooks Minor Hockey, Brooks Animal Protection Society,The Brooks Food Bank Foundation, Canadian Tire's Jumpstart, various service clubs and many more.

Open 7 days a week, home supplies to car servicing and some of the best Christmas finds! Be sure to say Hi the next time you see them (they're at the store almost everyday).