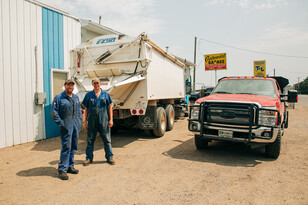 You may be familiar with Centennial Garage in Duchess, but do you know the story behind its name?
Ewald Rutschmann was working for the Ford dealership in Brooks when he and his business partner, Vince Graham, decided to start their own garage. They purchased the garage in Duchess, which was previously an International Tractors dealership that had been in the village since 1940. The year was 1967 and in a truly patriotic manner, they named the shop after our nation's hundredth anniversary.
Centennial was started as a repair garage before being the first garage in the County to offer motor rebuilding. This soon led to irrigation motor rebuilding and in 2017, Centennial became a designated T&L dealer. While they specialize in working with T&L pivots, they will service and repair any brand!
Ewald's son Troy and his nephew Greg also work at Centennial Garage, making it a well-established family business that you can feel good about supporting. The Rutschmanns are active members of the community; Ewald was part of the village council from 1968-1982 and served as mayor of Duchess from 1972-1980.
Did you know that Centennial also sells round bale handlers for Hydra-decks and Falcan decks? These allow you to convert a ¾ or 1-ton truck into an all-around work and service vehicle. Be sure to inquire the next time you're in the shop!