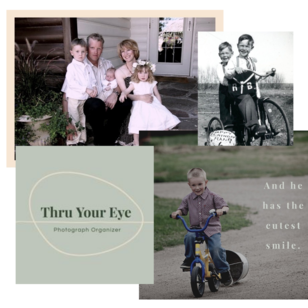 Denise Berg – Thru Your Eye Photo Organizer
Have you ever taken a beautiful, once in a life time picture? Or captured awesome life milestones and then lost them? Or do you hear yourself saying "one day, when you have time, I am going to organize these"!? You scroll through 9,753 photos looking for that one pic. Yes, it's in there somewhere, so you keep looking!
Well, Denise Berg, professional photo organizer and founder of "Thru Your Eye" has a much better option! She knows the importance of keeping your photos and memorabilia safe, and will help you organize, protect and share your photos!  
Growing up in the Brooks Region (on a farm near Cassils), along with her husband Reid, and their 3 kids, the Berg family lives on a farm near Duchess. This local entrepreneur, with her craft for photo organizing, has turned her passion into another successful Brooks Region business.
Having a Diploma in Marketing and being a Certified Photo Organizer, Denise has the perfect skillset to help you organize your photos and share your story. She will work with you through the process of protecting your most valuable memories and gives each client optimum service based on their individual needs.  
"I love pictures, especially those that tell stories," Denise says. Your grandfather's sun-worn face, your grandmother's delicate hands, the laugh lines around your mom's eyes, or a hug from an aging dad."
Denise is proud to continuing serving the Brooks Region community and looks forward to helping you organize and protect your memories.