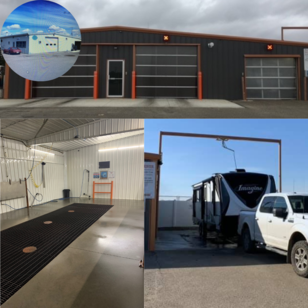 What started as casual conversation, soon became a reality. After raising their two children, Ivan and Anna Bergman were looking for a new adventure. As they cruised through the Village of Duchess, they noticed a business for sale (The Duchess Car Wash) and they knew it would be the next chapter in their amazing story! Both spending their childhood in neighboring towns in Russia, did not meet for years later in Germany. Now calling The Village of Duchess their home after many years, these two are not only committed to their customers, they take extraordinary pride in being a part of the Brooks Region community. 
Ivan and Anna were determined to turn this car wash into to a car washing "experience"!
It has been over six years since that conversation, and this thriving business has become the place to go. With the latest technology filtration system, the precise formula of soap and specific water pressure, your spot free wash, will be spot free! Who knew there was such a science to car washing?
Guess that's why it is an "experience" not just a lick and a promise!  Along with a water bottle station, an under-carriage cart, and a leaf blower, The Duchess Car Wash has 3 inside bays, (which 2 of are over-sized) and one extra tall outside bay, featuring an extra-long, high pressure wand, for those big, dirty jobs. From your K-car, to your tractor trailer, this place will accommodate everything you drive! 
Ivan and Anna at The Duchess Car Wash look forward to serving the Brooks Region with the ultimate washing experience - for any level of grime, to every make and model!