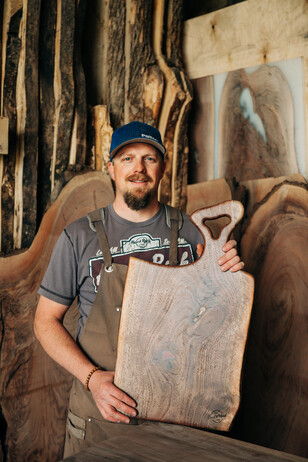 Dustin McNamara's pieces are a stunning blend of creativity, attention to detail, and quality craftsmanship. His one-of-a-kind work ships throughout North America, the United Kingdom, and other international locations.
You might be surprised to learn that despite his work's tremendous popularity, Dustin has only seriously pursued woodwork for the past 6 years! He had previous experience framing houses and building decks but didn't begin smaller projects in earnest until he built a wine rack for his wife in 2015. After posting a picture on social media, he was soon receiving requests from friends who wanted one of their own. Dustin expanded into other items, including charcuterie boards, and was taking custom orders throughout Alberta within the year.
In 2019, Dust & Wood began shipping orders to the United States. While the majority of Dustin's projects are commission work, he tries to always keep his website stocked with inventory for wider availability.
Most of the wood used for his custom live edge pieces is Canadian black walnut sourced from Ontario, which is popular due to its natural variations and rich colour.
Dustin appreciates when clients allow him a greater range of creative freedom, which provides the opportunity to craft unique pieces that stand out and can become a family heirloom. He stands by the quality of his work and offers clients advice on how to maintain the look of the wood for generations to come.
Make sure to check out Dust & Wood on social media, where you can watch some of the techniques that Dustin employs when working on projects big and small. From resin pouring videos for his river tables, to watching him apply finishing oil for a beautiful sheen, we love getting a glimpse into his woodshop!