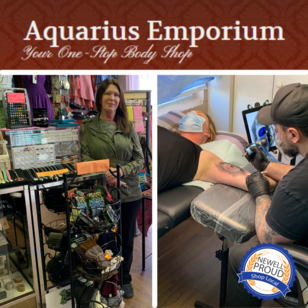 Growing up in Taber, then moving to the Brooks Region 28 years ago, Holly knows what it means to live in a tight-knit community.
In 2001, Holly along side her husband Greg, set up shop in Brooks! Back in those days, opening a business that does body piercing and tattoos was a risky move, as it was "outta of the box" for a small community. 20 years later, Aquarius Body Art Emporium is another thriving business in the Brooks Region!
"Aquarius", as most Brooks Region residents call it, offers many body modification services such as microdermabrasion, laser hair removal, body waxing, sugaring and even tanning!
They also carry an awesome selection of body jewelry, clothing and accessories. Aquarius Emporium really is your one-stop body shop!
Did you know, Aquarius Emporium also has two in house tattoo artists?
Mizra Delibegovic, with his wife and apprentice Marlana, make a remarkable duo and welcome any design challenge.
These two understand the power and magic of body art expression, and look forward to working with the individuality and creativity of every client!
Although she carries a super chill personality, Holly takes her business seriously, and is committed to the highest level of standards and quality of customer service.
Holly at Aquarius Body Art Emporium really is the essence of being Newell Proud, and she looks forward to the Brooks Region's continual support!