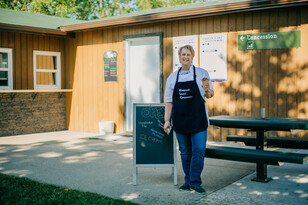 Holli's entry into the concession business began 13 years ago when bids opened at the new Centennial Regional Arena in Brooks. As she had previous experience working in the kitchen at a fishing resort and was already an avid baker, she decided that running the concession during Bandits games would be the perfect business opportunity for her skill set.
8 years later, Homestyle Concessions was able to expand to the Silver Sage Arena to provide food for rodeos and other community events. Holli's pies were already famous and often requested by her loyal customers!
Holli had been interested in branching out to Kinbrook Island for several years and was thrilled when the concession was finally welcoming bids in the fall of 2020. Between the three locations, she is now able to keep her core staff employed year-round, which was one of her primary motivators for taking on another seasonal location.
As a long-time resident of the Brooks Region, Holli aims to carry local vendors as much as possible! She uses beef from Alberta Prairie Meats for their burgers and relies on Prins Brothers Distribution to keep her stocked with a wide range of ice cream flavours, from classics like maple pecan to triple chocolate brownie.
The staff at Homestyle Concessions love to provide fantastic service and make their customers happy! Holli aims to improve peoples' experience at Kinbrook Island and works with Alberta Parks as closely as possible to enhance visitors' time at Lake Newell. She also is considerate in setting prices to ensure that items are priced as fairly as possible so that they are affordable for everyone.
Next time you make a trip out to Lake Newell, make sure to stop by! Kinbrook Concession has everything you need for a trip to the beach, whether it's s'more roasting supplies for the public firepits or a freshly baked bumbleberry pie to share with the family. And of course—don't forget the ice cream!