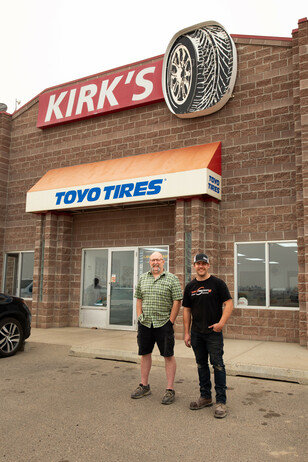 Business partners Jordan Baker and Bruce Veronelly provide Kirk's Tirecraft in Brooks with years of expertise in the tire industry! Jordan began working at the Taber location when he was 14 and has spent the last 10 years working with the business full-time. Bruce has been with Kirk's for 17 years and has managed the Brooks location since it opened in December 2002.
Their employees will service your agricultural, commercial, and personal vehicle tires with best-in-class response time and leading roll time records within the industry.
Jordan says that he was taught from a young age that "service is huge." This is seen through the shop's reputation for stellar customer service and rapid turnaround time, which has been well established over the past two decades.
Bruce and Jordan have created a work environment in which employees are committed to getting work done safely and quickly, while being able to push each other as a team. This work ethic and team spirit are clearly communicated through the fact that all current employees have been with Kirk's for several years. Not only does this create a positive atmosphere to work in, but it makes for an excellent customer experience!