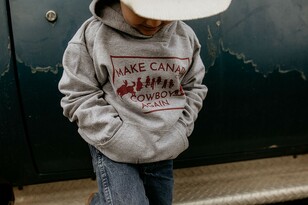 Keziah Hale started Little Wyld Boutique in November 2019 with the intent of bringing trendy kids clothes to Canada.
Having two little cowboy kids of her own, she often found herself shopping south of the border and wanted to bring similar items here to make shopping easier for us Canadians.
From that was born Keziah's second company, BWyld Custom Apparel. The interest in boys' clothes was growing, so she designed a line of graphic t-shirts but had trouble finding a printer to make it work. Keziah decided to invest in the equipment to print her own shirts and make that service accessible for other small businesses.
With the addition of BWyld Custom Apparel, Keziah can offer DTG and Vinyl Printed custom clothing. Whether you need one milestone shirt or a hundred for all your closest friends, she can make it happen locally and affordably!