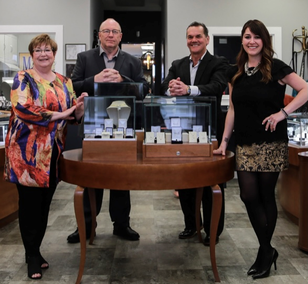 Mareta's Fine Jewellery has been invited to attend "Strive for Perfection" The Royal Edition in London, England.
This prestigious event will be hosted by The Bentley and Rolls Royce Club in and Mareta's is one of only five jewellers invited internationally. It will be presented by St. James House Group, which serves as official representation on behalf of the Royal family. It is an incredible honour to have Mareta and her team representing our community at the international level!
Mareta's will be creating a unique line of jewellery to showcase at this exclusive event in October. The business was selected as it embodies a commitment to producing one-of-a-kind products and its entrepreneurial team has made Mareta's an innovator in the field of custom jewellery.
We love the story behind this local business! Mareta Cheney was born and raised in Brooks. Her jewellery career took her to Ottawa, where she worked with an upscale jeweller and met her husband Charles. The couple travelled across the United States, opening a chain of jewellery stores for a multinational company, before settling down and opening their own store in Brooks. Mareta manages the store with her husband and parents, Ken and Reta Scheuerman.
Their mantra is 'to provide an exceptional experience with exceptional results while creating a lifetime of memories for our guests'. This can be seen through the team's attitude towards providing superior customer service, which includes employing a master goldsmith to complete all of their repair work on site. Clients will often bring in their old, often inherited jewellery, which Mareta transforms into a more contemporary and wearable piece. Using this process, jewellery that might have belonged to a loved one can be worn and enjoyed rather than hidden away at the back of a jewellery box.
Mareta Cheney and the rest of the staff are grateful to the entire community that has provided them with support and inspiration in achieving this milestone. They are excited to represent Brooks and look forwards to serving the community now and in the future!