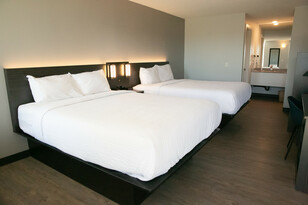 Brooks' newest opening in the hospitality industry is a
Motel 6
that has been hiding in plain sight!
While you may have noticed some external changes to 1119 - 2nd Street West, the most significant changes have taken place inside the motel. Since the change in ownership in January, the building has received a complete facelift. This overhaul means that no surface has gone untouched and none of the original finishes remain!
All 57 rooms house double queen beds with top-of-the-line mattresses, as well as modern luxuries like headboards with built-in lighting and keyless entry with a digital pass. These amenities will help ensure that visitors' stay in Brooks is comfortable and convenient, which is an asset to regional tourism and other local industries that hire short-term workers from outside of the area.
Locals and visitors alike will be excited to learn that not only will
Ricky's Family Restaurant
be returning to the dining space, but it will also be complemented by an authentic Italian pizzeria!
Famoso Neapolitan Pizzeria
is an upscale restaurant that serves hand-tossed pizzas that are fired in an authentic bell-shaped oven imported from Italy for 90 seconds at 900 degrees. Since the transformation will take around 2-3 months to complete, you can look forwards to enjoying both restaurants this fall.
With the motel's first guests being welcomed today, it's official—the Brooks Motel 6 is open for business! Future developments include a potential grand opening and the announcement of the new restaurant to the existing space so follow them
Motel 6
for updates.