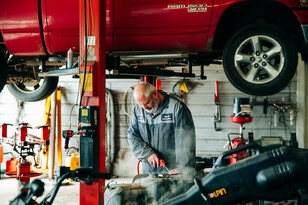 26 years ago, Karl Jacobsen opened Newell Automotive in Duchess for a change of pace from city life. Since it was cheaper to buy a lot and build than to buy an existing shop, he and his business partner chose a lot along the main street and began construction.
Karl and his current co-owner Murray McIntyre are proud to offer a wide range of automotive services and repairs. However, they service more than just cars—bring in your quads, ATVs, golf carts, and even agricultural equipment that needs mechanic work done!
Newell Automotive's long-standing reputation in the Duchess community is proof of Karl's statement that 'every customer is not just a customer, they're a friend.' After almost three decades in business, they are servicing vehicles for the third generation of some of their original customers.
The next time you need a tune-up or repair work, give Newell Automotive a call!