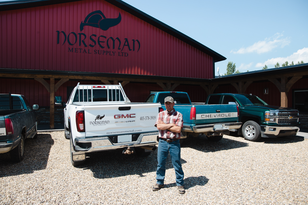 The Newell County is home to many amazing places of work, and Norseman Metal Supply is a prime example!
Norseman Metal-Supply, owned by Ray and Ron Torkelson, have been providing their customers with metal that is built to last and endure the roughest of conditions.
They supply and install metal sheeting (and trimming!) for buildings and roofs, and they can offer over 20 distinct colours. What else makes them unique? The metal they use is actually manufactured on site in Duchess!
They're able to offer fully customizable designs and packages so your next project is not only durable, but has the exact look you're going for.
If you recognize the building, that's because they are located in the previous Lutes lumber yard which they converted and renovated into a beautiful facility for their metal supply and 5 in house staff.