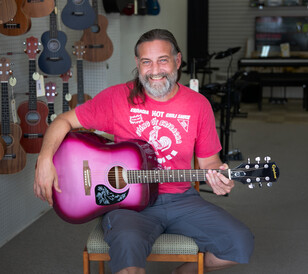 Progressions Music celebrates its first anniversary in Brooks this month!
Owners Nathan and Abigail saw a need for a music store and lessons in the area and opened the store in downtown Brooks last August. Progressions has been open for 3 years in Medicine Hat and currently teaches music to over 400 students through the 9 teachers on staff.
Progressions started as a home-based business teaching children music through the Music Together program. To this day, the studio employs a contemporary approach to lessons by 'coaxing out musical aptitude' to help students realize their musical talents, regardless of age. You get to play songs that you enjoy and try out popular styles of music as well!
Students can also take a more traditional approach to lessons as several staff members are also conservatory trained. Most teachers have been stage musicians and played in several bands, such as Rob Cook, who performed in Brooks at last month's Lifted event. Rob isn't the only staff member who has played locally— owner Nathan remembers playing at the Brooks Hotel! For the 15 years that he was lead vocalist for Coldshot, he and the band would travel from Medicine Hat regularly to perform in Brooks.
If you're considering learning an instrument, this is the perfect opportunity! Progressions' mobile approach means that they will travel to the communities in which their students live. Teachers drive to Medicine Hat, Brooks, and Ralston on a rotating schedule. Guitar lessons are available Monday through Wednesday with teachers from Medicine Hat or Duchess and piano lessons can be booked on Saturdays.
With Progressions' passionate and encouraging teachers, you're sure to leave the music store on the right note!
Check out their Facebook page and website for more details.