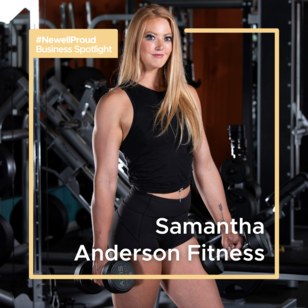 Are you looking to shed that extra 'Quarantine 15' weight or develop an active lifestyle? Do it in a healthy and sustainable way with the help of Samantha Anderson Fitness!
Sam is a personal trainer that specializes in working with women who want to achieve healthy weight loss, increase their energy levels, and become a better version of themselves.
Born and raised in Brooks, Sam completed her Community Rehab and Disability Studies degree at the University of Calgary before moving back to work at the Brooks Hospital as a Physical & Occupational Therapy Assistant. Her passion for helping people discover their capabilities through living a healthy lifestyle lead her to start her own business!
Sam is a self-proclaimed 'personal trainer, Bootcamp instructor, figure pro athlete and wellness enthusiast' who has been undeterred by the challenges of the pandemic. By moving her classes online, she was able to continue building a robust fitness community among her clients.
If you're looking to incorporate flexible dieting into your lifestyle and find an exercise routine that fits your schedule, make sure to check out Samantha Anderson Fitness.
With Alberta's Open for Summer plan, Samantha and her fellow coach Skyhlar will be running outdoor Bootcamp classes this summer as restrictions allow. Register to claim your spot!