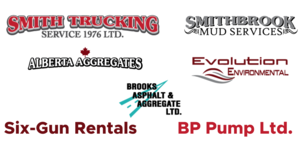 Smith Group Holdings is an organization proud of its heritage and the communities it serves. They are proud to be the number one supplier of trucking, road construction, deep utilities and oilfield services in Brooks Region. They're constantly looking for opportunities to grow their business.
The Smith Group team prides themselves on their exceptional quality and first-rate customer service and they continue to uphold their long-term business relationships with a commitment to their integrity, partnered with their diversity.
They are founding fathers for the AJHL Brooks Bandits and the WMBL Brooks Bombers and have committed over $100,000 annually to local non-profit groups, local minor hockey teams and new sport facilities in the Region. It goes without saying that Smith Group Holdings has a strong hold on advocating for the betterment of our local communities. 
Ontop of their field and community accomplishments, Smith Group staffs over 100 employees year round and up to 200 seasonal workers equaling 300 employees, which is a testimony to their relevance here in the Brooks Region.
In 1950, Mr. Raymond Smith and Mrs. Victoria Smith moved their family from Bracken, Saskatchewan to the County of Newell. What started out with a single truck hauling hay, the company has grown to an assemblage of over 1,000 pieces of equipment and is known today as "Smith Group Holdings".
In 1986, Smith Group Holdings was formed when the last of the three younger brothers joined to help manage the organization. At that time, they had six shareholders; Richard, Byron, Lynden, Brent, Elwood and Leighton, which allowed Mr. Raymond Smith to retire. Since then Brent, Lynden and Elwood retired in 2017 and the company is moving into their third generation of the Smith Family by bringing in BJ, Troy, Tyler and Cole Smith to the ownership team.
Under the Smith Group Holdings umbrella the companies include Smith Trucking Service (1976) Ltd., Smithbrook Mud Services Ltd., Brooks Asphalt and Aggregate Ltd., Alberta Aggregates Ltd., Evolution Environmental, Six Gun Rentals and BP Pump Ltd. Their team works diligently to deliver products in a timely manner and continue to sustain the environmental requirements set out by each municipality.
Smith Trucking Service (1976) ltd. offers a diverse array of transportation and hauling services throughout Alberta including aggregate sales and delivery, winching and picker services, heavy equipment moves, hot shot services and general transportation services. They have a vast gravel supply across Southern Alberta and stand behind the quality of their products and services.
Smithbrook Mud Services Ltd. was formed in 1977 when they built many of the frac mud warehouses in existence today. This was done to service the growing oilfield service need in the Brooks Region. Today, Smithbrook Mud Services Ltd. does winch truck, roll-off truck and tractor services, including moving equipment and other hauling services.
Brooks Asphalt and Aggregate Ltd. was founded in 1980. This part of the organization has grown to over 80 employees in its peak season with hundreds of pieces of equipment from shovels to an asphalt plant. Brooks Asphalt & Aggregate Ltd. provides roadway construction and repair services to residents, businesses and local and provincial governments throughout the City of Brooks, County of Newell, and surrounding areas throughout Alberta.
Six Gun Rentals was formed in 1994. This became the part of the organization that handles waste, rental equipment and the real estate holdings for the organization.
In 2008, Alberta Aggregates Ltd. was purchased to help compliment their growing aggregate and infrastructure needs. Alberta Aggregates Ltd. specializes in customized crushing, screening and processing of aggregates in southern Alberta.
In 2015, BP Pump Ltd. was purchased to help complement their oilfield services through offering cement return bin rentals as well as highway hauling.
Evolution Environmental supply equipment for a variety of projects from start to finish. Along with providing oilfield rental equipment, they have many years experience in lease building, preps and clean ups, general earth-moving, road maintenance and reclamation, highway trucking/ tractor service and heavy equipment hauling. Evolution Environmental, formed in 2017 and amalgamated with BP Pump and Smithbrook Waste Management Systems Inc.
As you can see, Smith Group Holdings is devoted to provide stable and sustainable growth to the communities they serve, and they are grateful to the Brooks Region for their continued support!