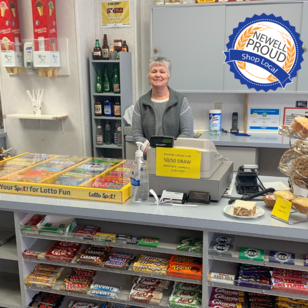 Have you ever seen a Café and a Bottle Depot combined in one business? Well that's exactly what the Empty Bottle Ltd. on Main Street Bassano is!!
After working at the Bassano Town Office for 20 years, Dawn Huckerby made the smooth transition into being a small business owner. Dawn's previous experience is in municipal government, and her husband Tom taught at the Duchess School and worked at the golf course. They've witnessed a lot of changes in the area. Plus, they know everyone!  
Some might remember this quaint place used to be a pool hall up until 1974 when Bob Scott turned it into a coffee shop. Since then, it's been owned and renovated by Ric and Anne Beddows who were also owners of The Bassano Building Ctr. It changed hands when it was purchased in 2009 by two long-time friends (and local curling celebs) Dorthy Bingham and Dawn Huckerby.
Dawn is now proud to be the sole owner, but still has her right-hand lady, Dorthy, at her side helping out most days!
The Empty Bottle Ltd. has that amazing character and atmosphere that every shop strives for! Whether you are stopping by for a coffee and ice cream, or grabbing a winning lotto ticket, Dawn and her staff are always ready to give the best service possible! By the way, you can also grab some fresh baked cookies on the way home!
Now let's not forget about the actual bottle depot!? At first this may seem like an odd combination - for this community, it is the perfect fit. The bottle depot, which is operated from the back side of the building, is always busy and brings in customers with their recyclables from all parts of the Brooks Region!
Dawn Huckerby, along with her husband Tom are proud to be a part of the growing business crowd in Downtown Bassano and appreciate the continuous support of the entire Brooks Region!