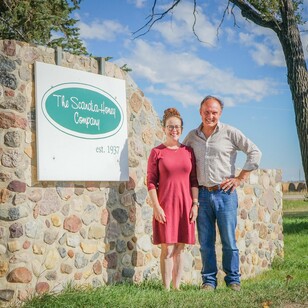 When you operate one of the SWEETEST businesses in the region, export your product around the world, have an amazing team of employees that come back every year, and your company history goes back over 80 years, you must be doing something right.  That's the story at The Scandia Honey Company!
When Reece and Echo Chandler made the decision to take on the challenge of the honey business over 20 years ago, they probably couldn't imagine the STICKY situations they'd find themselves in.  But through a combination of hard work, educating themselves, innovating, and entrepreneurship they have grown The Scandia Honey Company to be one of the largest honey producers in the country.  They provide a diverse array of products and services that many people don't realize are associated with honey production.
Probably the number one business besides actually making honey is pollinating!  You've probably seen the odd coloured boxes or tents in farmers' fields, and most people know that they contain beehives, but did you realize that the agricultural industry relies on this multi-million dollar business each year to ensure their crops will flourish?  Honey producers will SWARM out across the prairies at night while their bees are back in their hives to move them from field to field so the next day they can buzz out and gather the nectar for the honey while pollinating the fields that produce our food.
At The Scandia Honey Company, the focus is on their team.  Because of the nature of the work, they employ a large group of seasonal workers that are both local and from around the world.  The fact that they have multiple generations of the same families that come back year after year speaks volumes about how great a place it is to work.  They provide housing for some of their workers and they have staff wellness rooms like a fitness facility, an employee lounge with TVs and games tables, and a lunchroom that is reminiscent of a trendy coffee house in Vancouver.
So whether you're looking for a pail of honey for your personal needs, a barrel of honey for commercial food production, or the boutique infused honey created by their daughter Tique and her Chandler Honey brand, you'll BEE able to find it all at The Scandia Honey Company!