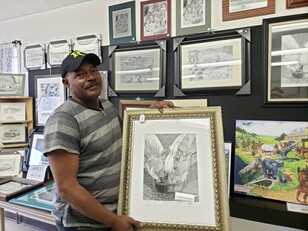 The Village Market in Duchess is an amazing example of how creative entrepreneurs have been able to turn the pandemic into a new business opportunity!
The Village Market also hosts weekly Maker Mondays, which provide customers with the chance to learn a new art skill from a local artisan. They also partner with other local businesses to showcase the best of country living. For example, customers will receive free pepperoni sticks from Alberta Prairie Meat with a purchase at the Market throughout July.
Currently with 13 vendors and capacity for up to 35, Kathy Ramer has helped bring local artisans together to sell their one-of-a-kind wares in an updated space in the Duchess Community Hall. "For the last year and a half, vendors haven't had a place to go to market or find an outlet for their work," she explains. This new space offers artisans a place to connect with like-minded creatives and provides customers with a one-stop-shop for over a dozen vendors.
With a 30/70 split of handmade items and home-based businesses, the Village Market also provides young entrepreneurs with the opportunity to venture into the world of business. Junior entrepreneurs can rent a shelf at a very reasonable rate, while others vendors can rent a 4 by 8 space on flexible terms.
"We have a lot of quality and experts around here," says Kathy. Whether it's a "hobby that's gone out of control," or a business idea that has already taken off, the Village Market is welcoming new vendors.
In the adjacent space, you can find the storefront for Finders Keepers, which sells a wide selection of new and like-new merchandise, from leather jackets and sporting equipment to kitchen tools. While Wesley has been collecting recycling for the last 15 years, this store provides him with the opportunity for job learning and helps him connect with the local community.
Everything sold in the store is donated with any extra profit going back into community programs, such as Walk of Love. Merchandise changes weekly, so follow them on Facebook to see new inventory. If you're unable to pick up items, inquire about delivery for a small fee. You never know what treasures you might find at this store, but a smile from Wesley is almost always on the list!