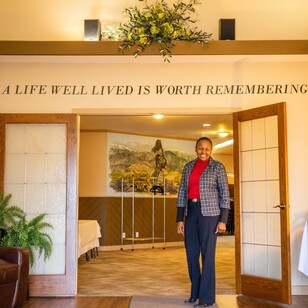 Located just outside of Duchess, Thom's Funeral Home & Reception Centre is a family-owned and operated business that offers a range of services you might not expect! There are of course funeral services, such as funeral pre-planning, memorials and complete funeral arrangements, but they also use their beautiful space as a fully catered reception centre which can be rented out for small events and parties. They also offer limousine rentals!
Co-owners Jennifer and Chris Thom have spent many years in the industry and are caring, certified professionals. Both knowledgeable and gentle, they also facilitate grief support groups for families suffering loss and struggling. Having like-minded and supportive individuals to talk to during such a difficult time can make all the difference, and this is an important service to be available in the Brooks Region.
Jennifer came to Canada from her native Kenya in the early 2000s. After experiencing some deep grief of her own, she began school at Mount Royal University and entered the funeral business where she met Chris. They opened their business together in 2011 and since then have devoted themselves to helping others. Her lived experience helps her understand what others are going through and Jennifer has written a book on grief plus created a grief podcast called Stronger Life Connections.