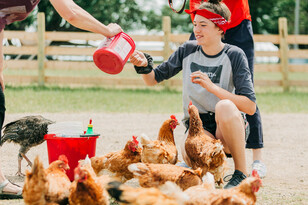 As a result of the recession, Denis and Melissa Jackson looked at self employment options to fit the needs of their growing family. Their hobby farm already seemed like a petting zoo to family and friends, so it was a natural transition into developing it as a business.
White Barn Fun Farm has had a strong start to its second season, averaging 20 families visiting per week, as well as numerous school tours and birthday parties. They have also attended several community events with their traveling petting zoo, including the NJAC hockey event at JBS and Rosemary Canada Day celebrations.
Owner Melissa Jackson says that their family has been "pleasantly surprised that most of our visitors are local" as they initially presumed tourists would have been most of their seasonal business.
White Barn Fun Farm is now registered on Travel Alberta and the Jacksons have been welcoming more visitors from Calgary, Okotoks, Medicine Hat and even Nova Scotia! 
Follow their Facebook page for special events like the Alpaca Picnic, $5 Fridays, Little Farmers Camp, and more. 
**Book your tour online through Facebook messenger or by visiting www.whitebarnfunfarm.ca. Tours are scheduled at 10 am and 3 pm daily from June 1 to August 31 with private tours can be arranged. Denis and Melissa are flexible with their tour schedule and just ask that patrons call ahead before arriving.