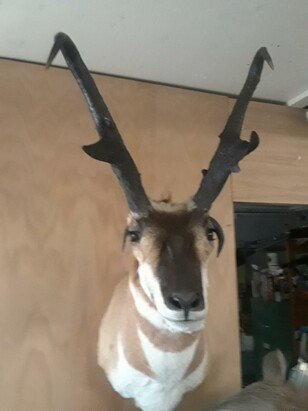 Wildlife Taxidermy has been operating in Brooks for over 40 years and owners Caroline and Larry Busse love what they're able to offer customers.
Although they specialize in shoulder mounts, typically for local game like deer, antelope and elk, they've also taken on a wide variety of animals. Over the years they've done badgers, foxes, coyotes, pheasants, porcupines (can't be easy, ouch!) upland game birds… even some owls, hawks and eagles which have been found dead and received a permit from Fish and Wildlife (since you're not able to legally hunt them).
With the popularity of hunting in the Brooks Region, they've gained quite a following and tend to get really busy each fall with big game mounts and racks. But it's not all just white tails and muleys - some of the most interesting projects they've worked on include life sized African mounts like cape buffalo, wildebeest (gnu), springbok, and gemsbok (oryx).
Larry says, "it's neat to offer a first-time hunter a unique trophy, or a piece of memorabilia from a special hunt with a loved one. Mounts also show people how special these animals are."