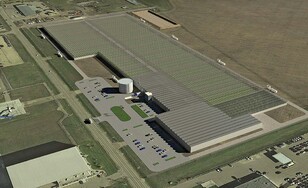 NHA Partners with Smith Group Holdings Inc.
Natural Health Alliance Inc. (NHA) has formed a strategic relationship with Smith Group Holdings Ltd. to make the first phase in their flagship property a reality. NHA Inc. recently purchased land in the South Industrial Park located in the City of Brooks to research, develop and operate medical cannabis facilities. Beyond production and processing, the facilities will be a scientific research and development hub working to advance the study of cannabis and how it can be applied to illness and affliction.
"Under the leadership of Byron Smith, we are looking forward to the contribution and expertise that the Smith Group is known for," said Ken Faulkner, NHA Inc. CEO and Co-Founder. "This alliance is an important local milestone that will allow NHA to continue in its effort to put Brooks at the forefront of scientific research and development."
Construction
Phase one of construction will be a 34,000 square foot facility and will cost between $6 to $8 million. Within NHA Inc.'s project design, they will be able to maintain flexibility to build along with an ever-evolving industry. They plan to be nimble enough to take advantage of regulatory changes that will allow them to further develop their brand and product selection. 
"This is a very important initial building block in making our vision a reality," said Faulkner, "and we are very happy to have Smith Group share the view that this is a legacy project."
Faulkner said NHA Inc. will make important scientific breakthroughs that will benefit all people for many generation to come. They plan to start phase one as soon as the weather and issuance of required permits allows.
More information on NHA Inc. and the proposed development can be found by clicking here or contacting:
Ken Faulkner, CEO & Co Founder
Natural Health Alliance Inc.
250-862-0724
ken@nhainc.ca