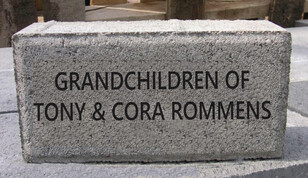 "Big things are built
one brick at a time!"
The Kinbrook Connection Pathway will become a reality thanks to the support of the people in our community. We understand the desire for individuals, families, and organizations to contribute to this amazing legacy. 
To meet that need, we have created the BRICK SPONSOR program. For every donation of $200 or greater, each sponsor will receive a commemorative brick to be used as part of the landscaping features along the path.  Not only will you be providing a solid foundation for the path, but you will also create a visual reminder that it was you that helped build the Kinbrook Connection Pathway!
Each Brick is a 4"x8" paver and has room for two lines of text with 18 characters each. To contribute to the program, please fill out the Donor Form and send it in or drop it off at either the County of Newell Administration Building or Brooks City Hall. Payment options and instructions are on the donor form.